You may be familiar with Julie Hasson from her cookbooks, such asVegan Diner and Vegan Pizza, but did you know that she also has a new line of vegan gluten-free baking mixes called Julie's Original?
Julie is a professional baker and pastry chef, and when she discovered that she was gluten intolerant, she did what any chef in her shoes would do – she created a line of incredibly delicious, easy-to-make, no-one-is-ever-going-to-believe-that-this-is-gluten-free, baking mixes. Julie and her husband Jay started Julie's Original because they realized how difficult gluten-free baking can be. Experimenting with different types of speciality flours can be expensive and time consuming – as well as not very tasty. With Julie's Original mixes, the trial and error work has been done for you. Each batch bakes up perfectly delicious each time with the simple addition of just a little canola oil, non-dairy milk and vanilla extract.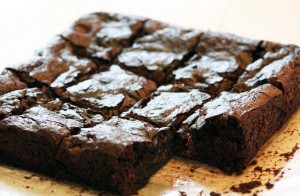 Julie's Original mixes currently come in White Cake Mix and Fudge Brownie Mix. They're made with simple ingredients such as gluten-free flours, sugar, aluminum-free baking soda, xantham gum, and sea salt, and they are free of dairy, eggs, nuts, soy, and of course, gluten. The mixes are incredibly versatile too. The white cake mix can be made into a variety of cake flavors, from coffee cake, to banana cake, carrot cake and more. I made Julie's recipe for Cinnamon Crunch Coffee Cake with it, and I was amazed at not only how easy it was to make, but how light and fluffy the cake baked up. I can't imagine anyone being able to guess that it was both vegan and gluten-free. Being a chocoholic, I'm especially in love with Julie's Original Fudge Brownie Mix, which bakes up both fudgy and chewy. I added chocolate chips to mine, but you can also add ingredients such as dried cherries, fresh or frozen raspberries, peppermint extract.
More Julie's Original mixes are on their way, including chocolate cake. Visit the Julie's Original website for more information and to order mixes.